We have seen Alvin and CJ already provide their thoughts on the HTC One, but what about from a completely different perspective? Perhaps from the perspective of someone who is very critical of Android? Here's where I come in.
Back in February, I was lucky enough to attend the launch of the HTC One, here in Sydney. The event was buzzing with excitement, before it even began. I remember pushing my way to the front of every demo booth, trying to get my hands on HTC's latest flagship. Now, I'm not much of an Android fan, instead preferring visual and functional consistency between products.
There was something about the One though, that really made me go gaga! So when Telstra reached out to me a few weeks back, giving me the chance to play around with the device a bit more, and put some thoughts to paper (so to speak), I jumped at the opportunity.
The HTC One is extremely well built, with its zero-gap Aluminium body. It comes in two colours; Stealth Black, and Icy White. The unit I've been packing is the White variant, and after seeing the Black, I am happy I've got the White. The shiny metal gives it a really premium look, and allows for the front facing speakers to be more noticeable. The HTC One has an ever so slight curve, but boy does that curve make it fit in your hand like nothing else! Every time I pick it up, it fits so comfortably, I've mistakenly thought I had the phone in my pocket on several occasions.
Moving away from the design, lets look at the actual hardware of this thing. The HTC One has a gorgeous 4.7″ 1080p display, a quad-core Snapdragon 600 clocking in at 1.7 GHz and a pretty large 32GB internal storage. (There are 64GB variants floating around). Powering all this though, is 2GB RAM and a huge 2300mAh battery, to keep you going all day long.
I'm a huge fan of mobile photography, and the HTC One doesn't disappoint in that regard. Boasting HTC's UltraPixel technology, the One takes stunning photos during the day, and also at night. The camera magic doesn't just end there though, as HTC have created what they like to call, Zoe. What Zoe does is lets you have greater control over your photos.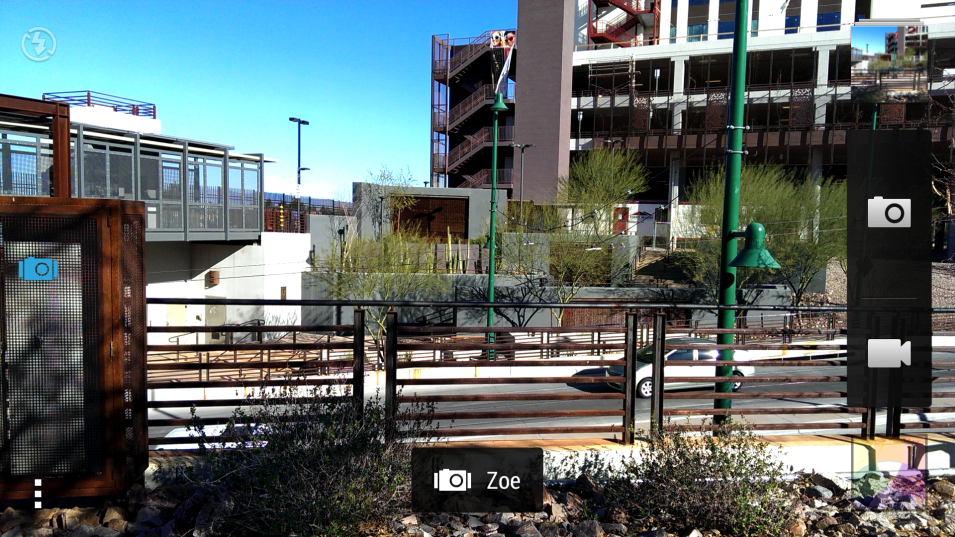 Simply enter Zoe mode, and take a photo. The One will record a few second of video, that can be used later to create a perfect shot. If you like sports, you can blend a few frames into one and achieve a layered effect of the motion. If you're more about making sure nobody has 'photobombed' you, there is an object removal feature that allows you to remove the cheeky person. Finally, if highlight reels are more your thing, HTC Zoe has the ability to create Highlights on the fly, with custom filters. It truly enhances the photographic experience when using this phone.
Here are a few camera samples:
All these are cool, but how much do you use them? Over the last two weeks, I've found myself using Zoe as the standard camera mode, as it allows me to always capture that perfect photo. However, I love partying and going out at night, and as such, the HTC One's amazing night time camera is perfect for when I want to take snaps of myself and friends, or even sometimes capturing the atmosphere of a club I'm at. The wide angle Front-Facing camera also rocks!
While on the subject of clubbing, I love my music. I love TV too. Oh, and movies! The HTC One caters for all my needs, as it has dual frontal stereo speakers (which just means two speakers on the front), Beats Audio and a killer screen. When I want to listen to music, I often turn Beats Audio off, just to hear the difference, and boy does it sound good when its on. The super clear screen and those front speakers are really something when it comes to watching movies or TV straight on the device. Sadly, when the HTC One goes back, my perception of screen clarity on my existing devices won't be the same. The One's screen is seriously, that good!
It may have all these bells and whistles, but in the end, the HTC One is first and foremost, a smartphone. This particular smartphone runs on Google's Android platform, sporting version 4.1.2, and HTC's custom software overlay, Sense 5.0. Personally, I'm yet to find a custom skin I prefer to the Stock Android UI, but Sense 5.0 is the first version that I've found I can put up with. (There are always launcher apps in the Play Store – so don't let Sense deter you.)
Call quality and reception has been top notch (aided by the fact that Telstra has Australia's largest 4G network and HD voice on the One). I never noticed a "death grip" situation which was good. The loudspeaker was actually loud for once on a smartphone. Relying heavily on being connected, smartphone experiences are always impacted by the carrier's network capabilities and by having support for 4G, the One definitely excels.
To distance itself from the competition, especially those like Samsung who also use the Android platform, HTC has done a few innovative things with their software. First up, is BlinkFeed. What this is, is a homescreen that aggregates content from select sources such as Facebook, Twitter, News etc. and provides that content in visual stream.
HTC have also incorporated an IR balster into the device lock button on the top of the handset (you can see it in one of the images at the top). This allows you, through HTC's TV app, to control any TV by using your shiny new One as the remote. You can set up a guide, and simply choose what you want to watch, and it will automatically change the channel. No need to scour through magazines and try to remember what is on next and what channel. Just simply scroll through the electronic guide, and tap the show. Simple as that!
Even in my own eyes, I am far from an Android fan. Yet, I really like the HTC One, and have been tempted to go over to the dark side, solely because it has one the best looking designs ever, and an outstanding camera. If though, you are and Android kinda-guy (or gal) and you are having a tough time deciding between the One and some of the other current flagships, I'll leave you with this;
This is the 'droid you're looking for.
(Yeah, I made a few Star Wars references there)
In the interest of full disclosure, I am in some respects, a Nokia and Windows Phone fanboy. I am also a Microsoft Uni ambassador and all comments contained in the article reflect my own opinion and in no way Microsoft's.
Massive thanks to Telstra for hooking me up with the One and allowing me to test the device on their network!